We manufacture most of the products within fixed prosthetics such as: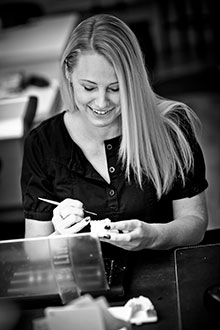 Crown and bridge, posts, veneers, implants, aesthetic veneers and temporary replacements.
But also various forms of splints such as bite correction splints, hockey guards, whitening moulds, composite moulds etc. If you wish, we can work according to CR, Centric Relation which shows the optimum position of the jaw joints and we can also manufacture Tanner splints another type of bite-correction splints.
The materials we use are Titanium, e.max, various kinds of Zirconium, Fullzirconia, Acrylic. We also make veneers in feldspathic porcelain that is fired on a platinum foil, a so-called foil veneers. A super-thin veneer where no preparation is required. A perfect solution when a little corner has been chipped off of a tooth or if a tooth needs to be built up.
For layered Zirconia, we have chosen to work with Creation, which is a high-fired porcelain for zirconia that has a fantastic luster and vibrancy.